Car LED Strip Light, Interior Neon Flexible Light
customers are viewing this product
Product name : Car EL Wire
Note
When this power inverter works,it will make a little buzz hum sound.
It is a normal situation,it doesn't bother you!please inform that.
If you are perfectionist,please don't order it.
​
Specifications:
Color: White/Blue/Red/Crystal Blue
Power: Inverter Power DC12V (Lights itself is 110V)
Energy saving,long life time,Life time more than 10,000 hours
Wire Diameter:2.3mm
Wire Length:3/5 meters
Working temperature:-40C~80C
12V Inverter,Input voltage DC12V
Output voltage:DC110V
light modes: steady on
(1) energy-saving. Its low power consumption, the decline in the total input power of the lamp line, better energy-saving effect.
(2) the elimination of the strobe light-emitting more stable. It will help improve visual resolution, improve efficacy; reduce visual fatigue of continuous operation,
help protect eyesight.
(3) The starting point is more reliable. Once the starting point for success.
(4) stable input power and output luminous flux: high quality products, good voltage regulation, power,
voltage deviation is large, the light source constant power to maintain stable illumination conducive to energy conservation.
(5) to extend the life of the lamp wire. The decline in high-quality products, constant power and lights line current, and reliable starting point lights line can prolong life.
Instructions for use:
Cold light must be connected with the drive to use, and can not be connected directly to the power supply.
Cold light can use double-sided tape or glue fixed and then in the car.
Cold light can cut use, cut the part can be discarded, ownership length does not affect the use of the remaining part of the.
If you can not use after cutting, because cutting lead to short circuit, so you once again cut a small part is OK
Note: We send the drive to you with Cigarette lighter pulg (Working through the cigarette lighter),
If you want to connect to the car interior Arbitrarily, you can cut the tail of Cigarette lighter so that line Interface can connect the 12V
But you should know Automotive interior wire
Installation Notes:
(New) band edge cold light "cold light with the side! The product does not require glue, plug directly into the side door or in the gap in the dashboard, trouble-free installation!
Do not worry posted after traces of glue, is preferred independent owners installed! each cold light all with independently driven, free connection lights interface can cut excess or hidden inside the trim panel
Light bar diameter 2.3MM, 5MM with sewing edge, the installation more convenient (console that plugs directly into the slit edges, no gum paste)
How to choose:
According to the different decoration, The car console needs 2~5 meters, Each door needs 1~2 meters.
Package included:
1x 3/5 Meters EL Wire
1x 12V Cigarette lighter drive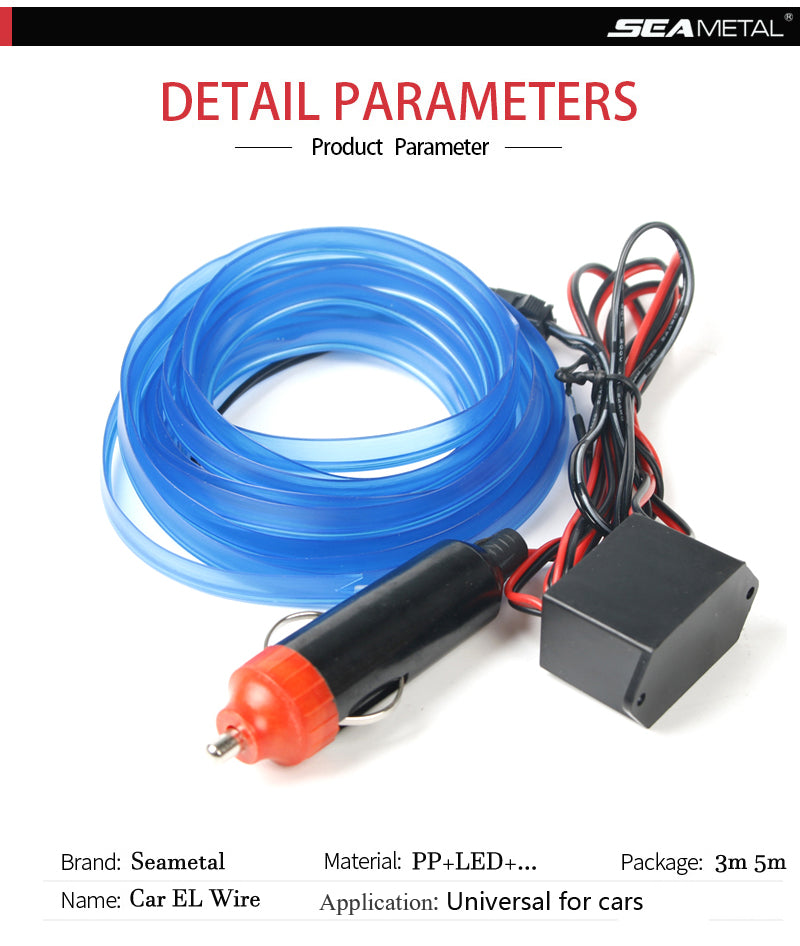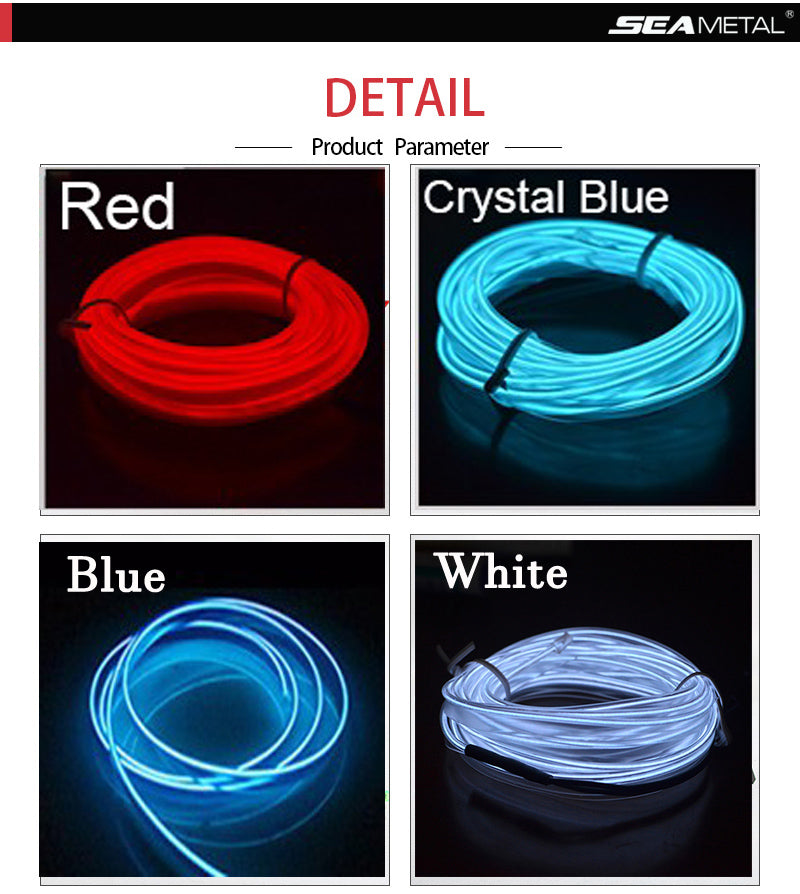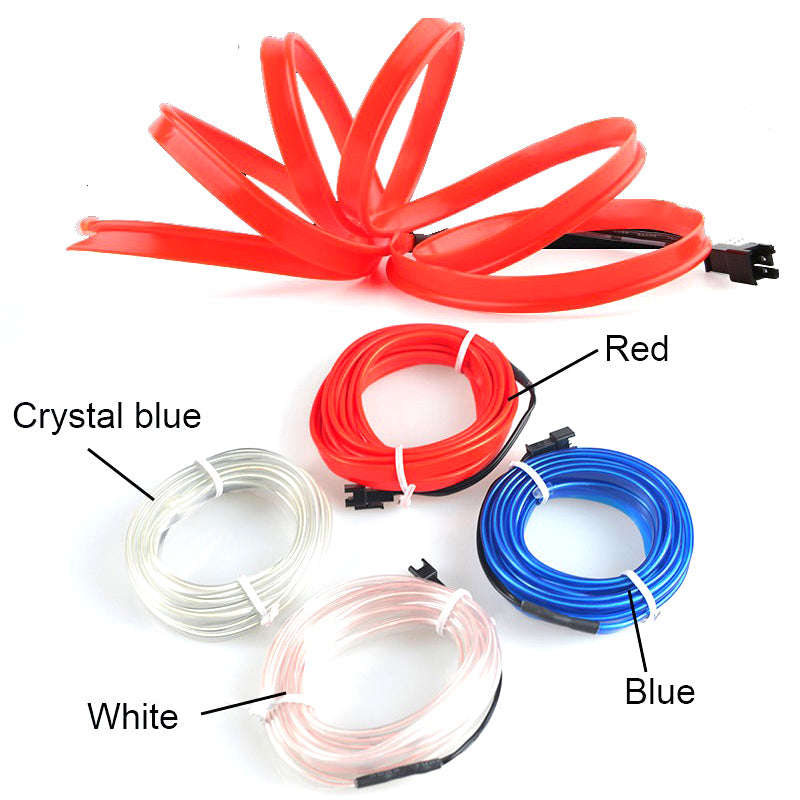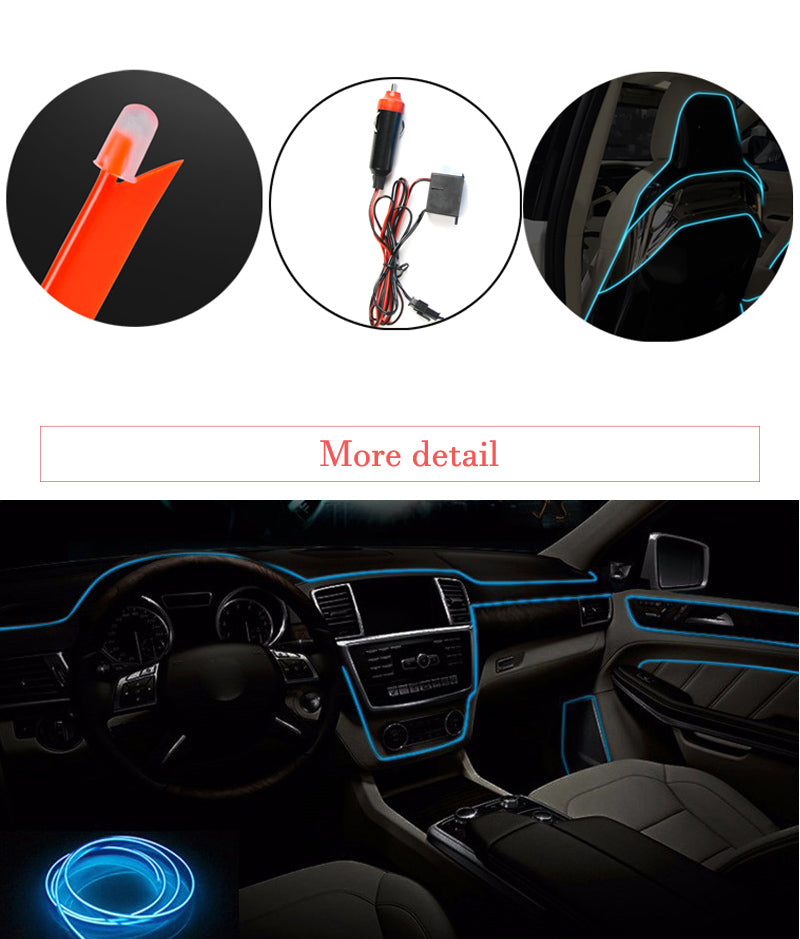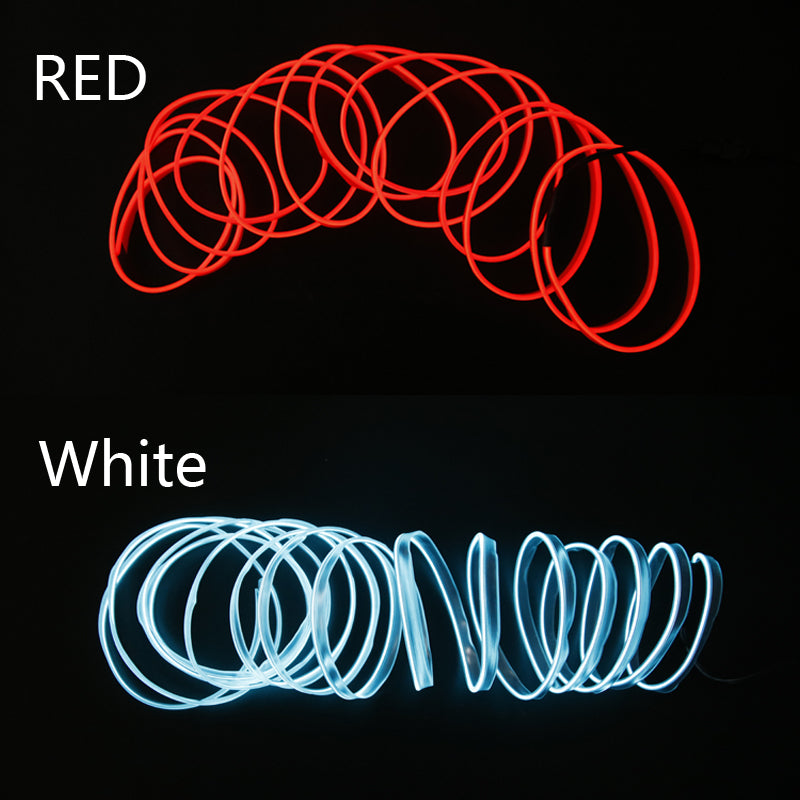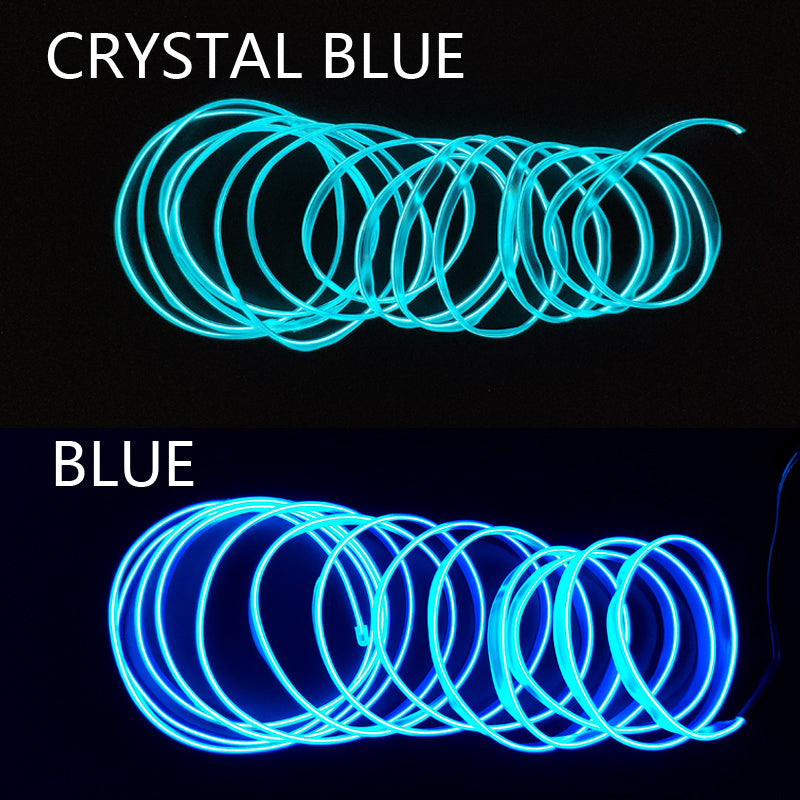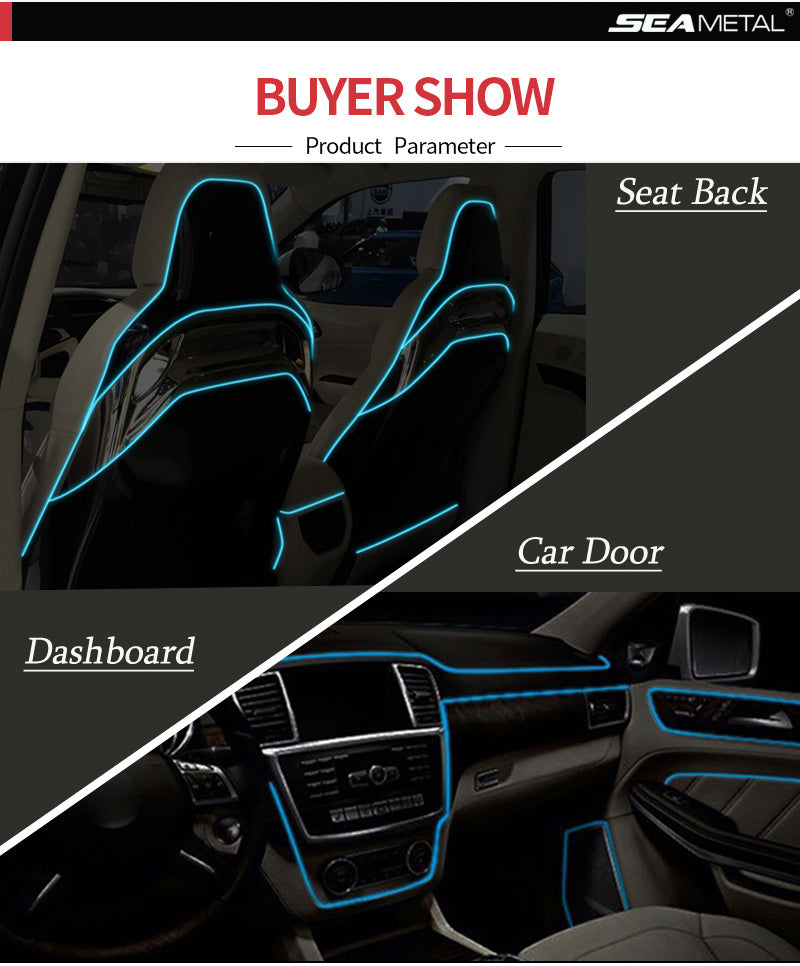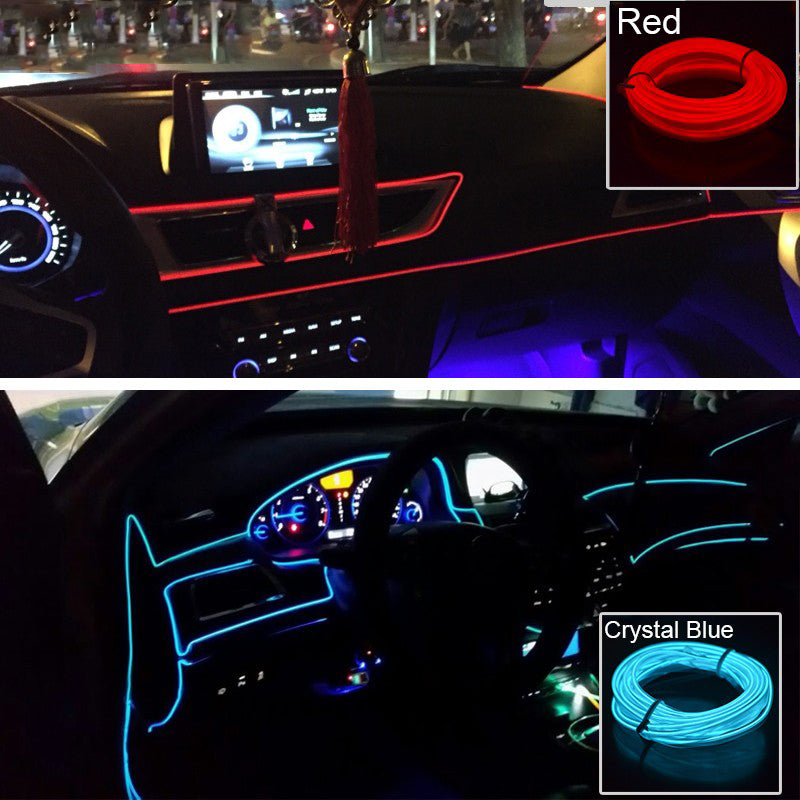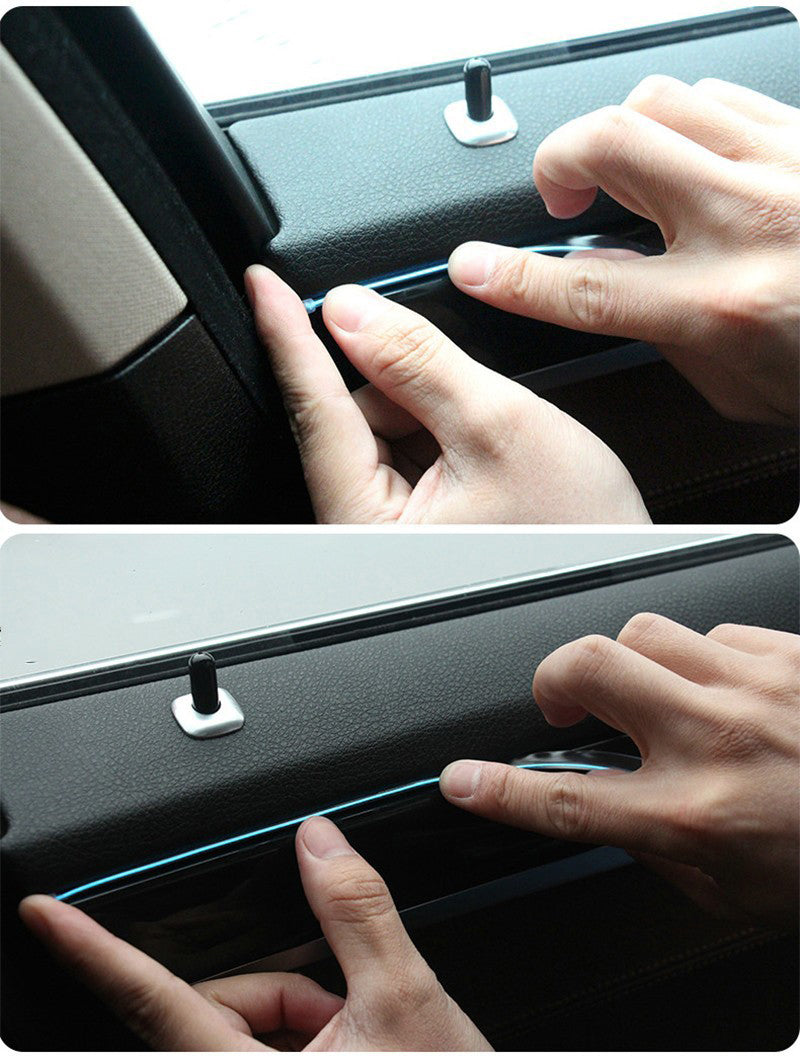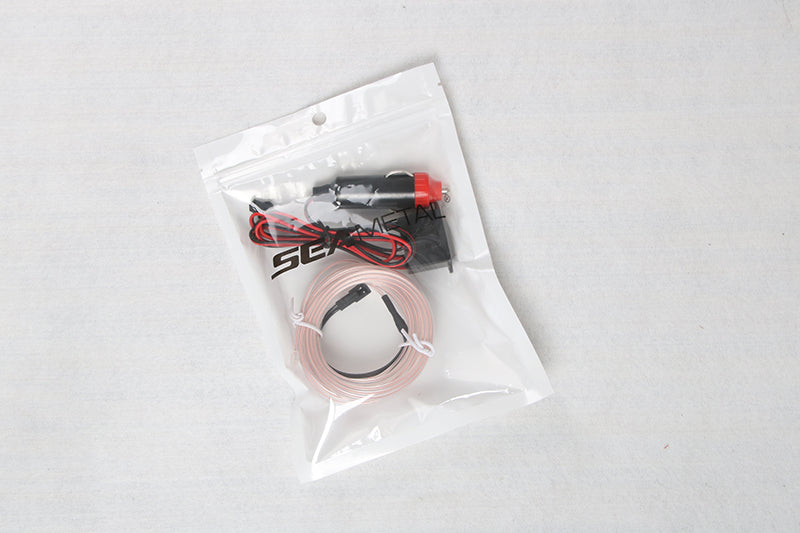 FREE WORLDWIDE SHIPPING!
Due to extremely high demand, please allow 7-14 days for delivery to the United States, 9-21 days delivery to Canada, United Kingdom, Australia, New Zealand, and all European Union Countries. Please be patient, we are doing our very best to fulfill every order that we receive!
SATISFACTION GUARANTEED - EASY REFUNDS
If for whatever reason, you decide you are not satisfied, you can easily and quickly contact our helpful customer support to get an easy refund. We just ask that you at least give the product a 2-week try and we'll refund you, no questions!