We'd love to hear from you. Please click the link below to send us your message.
✉ service001@seametalco.com
>> Contact Us
Working Hours:
Mon to Sat: 9am - 6pm
How Will Your Kids Love Driving in the Car?
Since the beginning, OUR BABY HATED DRIVING IN THE CAR. We updated her infant car seat, tried playing music, used window shades, tried sitting the back seat with a patient story teller mommy. All to no avail. Whenever we tell anyone else, people always says "But babies love driving in the car, it puts them to sleep" or "Most babies love being in the car, and it calms them down."
Not our child. She will throw a fit the minute the vehicle is no longer in park. I'm talking several hours of screaming on the first road trip (which should have been a 4 hour drive but turned into a 12 hour drive..).
SEAMEATL+Car Headrest Mount Holder/360° Rotating Ipad Holder
What she does love however, is being able to watch videos on our smart phones. Thanks to this tablet holder, we can actually GO PLACES LIKE BEFORE! Makes road trips, or driving anywhere for that matter a lot easier, and a lot less stressful. She sits there watching, fascinated, while this SEAMETAL Tablet holder displays Puffin Rock. She completely forgets she's even in a car. It's bliss!
SEAMEATL+Car Headrest Mount Holder/360° Rotating Ipad Holder
This is super sturdy!! Has a wide range of what it can hold in there. Doesn't budge easily either, my husband has slammed on the breaks hard enough to make everyone in the car jerk forward, however this thankfully never moves at all. Also quick and easy to install into almost any car, which comes in handy when vehicles are switched. Another handy tid-bit, is that there is a gap for the chargers on one side, so your device can charge while playing in this holder.

She is 12 months old now, and is starting to get used to driving in the car. We have been slowly weening her off the shows, but for road trips, this is always a must. It's a great investment in my opinion. We are so eternally grateful to the person who invented this. They need a pat on the back!!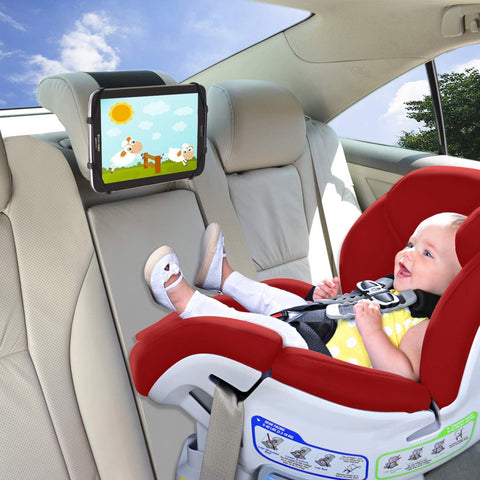 Get it here:  SEAMEATL+Car Headrest Mount Holder/360° Rotating Ipad Holder